Case Study by Likeable Media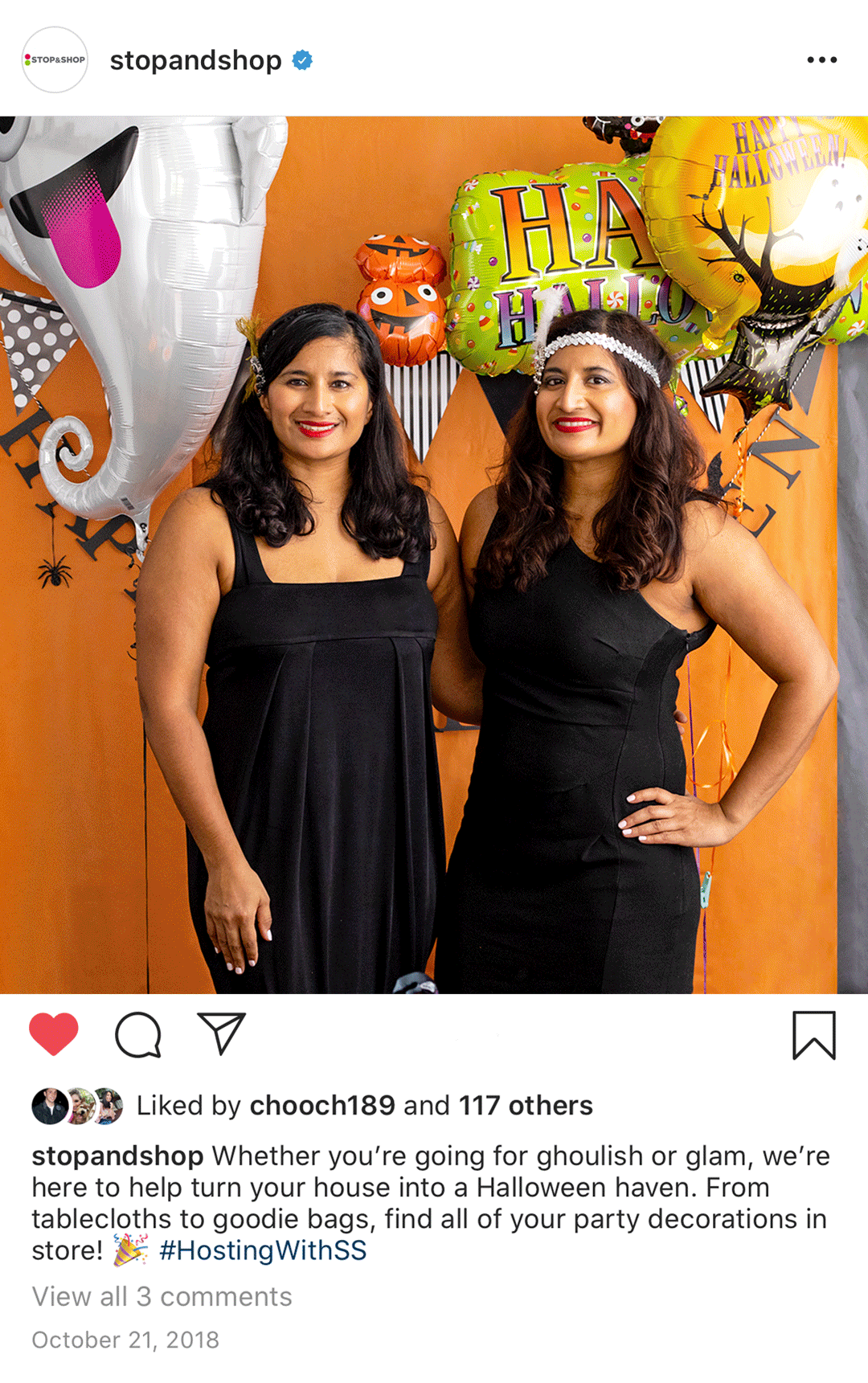 Monster Mash Influencer Campaign
Stop & Shop | Social Campaign
The Brief: Stop & Shop, the northeast supermarket chain, was looking to grow its following on Instagram while also highlighting it's seasonal Halloween products.. So we capitalized on the holiday to reach busy parents in our geo-target who could use some help making their celebrations a little less stressful.
​
Likeable launched a Halloween-centric influencer campaign to provide creative inspiration for busy parents, while also giving Stop & Shop added social capital. We threw a Monster Mash party hosted by Stop & Shop and invited three local influencers to help us celebrate in style.
Each influencer brought a party element tailored to their individual specialty: food, beverage, or decor. We filmed and photographed the festivities from start to finish, then created authentic, beautiful content featuring Stop & Shop products for both the brand and influencers to post throughout the month.
By teaming up with brand advocates from the northeast region, we helped Stop & Shop expand its visibility among a new and relevant audience. This resulted in content 119% above our engagement benchmark, a 10% increase in Instagram followers, and 1.5M total reach across organic and paid channels.

Role: Creative Strategy & Research | Art Direction | Concept Development | Set Design | Prop & Food Styling | Production Coordinating

AD: Angela Renai Comer
CW: Christina Sirabella
OTHER CREDITS: Photo: Gillian Terry DP: James Berry, Design: Thomas Reyes
​
Agency: Likeable Media
Stop & Shop Evergreen Content
Stop & Shop | Social Content
The Brief: In addition to seasonal campaigns, we we pitched and won Stop & Shop as on an ongoing basis for monthly organic and paid always-on content. The challenge of the brand was to improve customer sentiment,
create meaningful interactions between the brand and their audience, and drive visits to their stores.
​
At Likeable, we created a comprehensive Social Playbook complete with a competitor audit, cohesive social style guide to work with Stop & Shop existing branding, and content pillars. These pillars consisted of lifestyle content, various categories for recipe content, product specials, and seasonal holiday content.
Over time we achieved a lift in store visits, increased their following, and created positive sentiment among their customers. Not to mention we elevated their content to a more premium look to keep up with competitors.

Role: Art Direction | Concept Development | Creative Strategy | Set Design | Styling

AD: Angela Renai Comer
CW: Christina Sirabella
Photo: Gillian Terry
Video: James Berry
Design: Thomas Reyes
​
Agency: Likeable Media